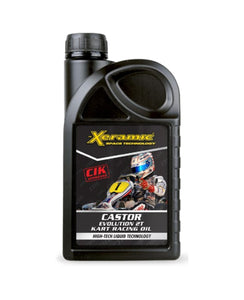 XERAMIC® CASTOR EVOLUTION 2T KART RACING OIL
$5290

$52.90
Tax included.
---
---
Part No: 20115 Contents: 1 ltr
PM XERAMIC® CASTOR EVOLUTION 2T KART RACING OIL is an advanced kart racing oil for optimal lubrication of all 2-stroke air- or water-cooled kart engines. This unique product has been specifically designed for racing applications where high revolutions, high loads and high temperatures prevail. The carefully selected synthetic base stocks fortified with high performance
additives and castor oil ensure optimal lubrication under the most extreme circumstances encountered in kart racing. Suitable for use at all fuel/oil ratios, recommended by the engine manufacturer. PM Xeramic® Castor Evolution 2T Kart Racing Oil has been developed in cooperation with leading engine manufacturers and world famous engine tuners and is CIK Homologated.