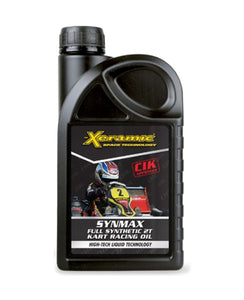 XERAMIC® SYNMAX FULL SYNTHETIC 2T KART RACING OIL
$5750

$57.50
Tax included.
---
---
Part No: 20470 Contents: 1 ltr
PM XERAMIC® SYNMAX FULL SYNTHETIC 2T KART RACING OIL is a superior fully synthetic kart racing oil for optimal lubrication of all 2-stroke water- cooled kart engines. This unique product
has been specifically designed for racing applications where high revolutions, high loads and high temperatures prevail. Suitable for use at all fuel/oil ratios, recommended by the engine manufacturer. PM Xeramic® Synmax Full Synthetic 2T Kart Racing Oil has been developed in co-operation with leading engine manufacturers and world famous engine tuners and is CIK
Homologated.